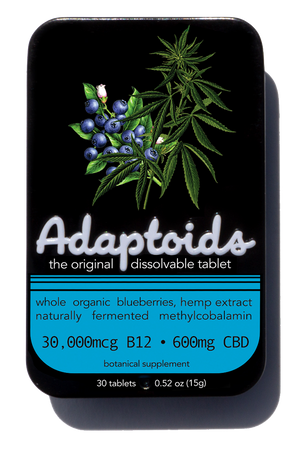 Blueberry - CBD + Vitamin B12.
600mg CBD + 30,000mcg Vitamin B12, derived from probiotic fermentation.
Each Adaptoids daily CBD + Vitamin B12 tablet is complete with naturally methylated Vitamin B12, trace minerals, and proteins. Created with pharmaceutically advanced nanotec™ hemp-extract for high bioavailability and rapid onset.

---
daily cbd + vitamin B12 supports the development of your brain, nerve cells, protective myelin sheaths around your nerve endings, and development of red blood cells. vitamin B12 is also known to enhance memory, concentration, boost your energy levels, and prevent pernicious anemia.
When Vitamin B12 is ingested as probiotic-fermented methylcobalamin, it is already in the biologically active form which optimizes bioavailability and tissue retention.
Unlike synthetic vitamins, Adaptoids B12 is created using a cultured fermentation process to develop it's superior bioenergetic properties. By avoiding animal sources and synthetic chemicals, Adaptoids B12 is true to nature and the ideal dietary supplement for vegetarians and vegans sorely lacking in this essential vitamin.
30 Tablets Per Tin - Amounts Per Tablet:
Vitamin B12 - 1000mcg
Cannabidiol (CBD)- 20mg
trace minerals: calcium, iron, magnesium, phosphorus, potassium, zinc, copper, manganese, selenium
made entirely with organic whole-fruits and plant-based extracts.
Blueberry - CBD + Vitamin B12.
Customer Reviews
Customer Reviews
Unbelievable results!
Started taking this product during and after having COVID and my doctors cannot believe that someone in there 70s can bounce back so quick. It has help with my memory and brain function. And also with my overall health. I would highly recommend this product to all ages and will continue with all 3 flavors.
11/19/2020
Alexis

United States
The best product on the market
Highly recommend! As a vegetarian it's really difficult for me to get B12 naturally and you really feel the cbd. Such a great product it's become part of my daily regimen.
05/31/2020
Chris D.

United States
Love em
Super tasty, very effective and overall great customer service
We love adpatoids !
Such a good experience with adaptoids. We love this product! Sleek cool container, great tasting and fast dissolving. Sit back relax and let the CBD do its thing. Will definitely be a returning customer.