fast melt • plant-based
organic cbd vitamins.
Cherry - CBD + Vitamin C.
300mg CBD + 1000mg Vitamin C, derived from organic acerola cherry. Each...
View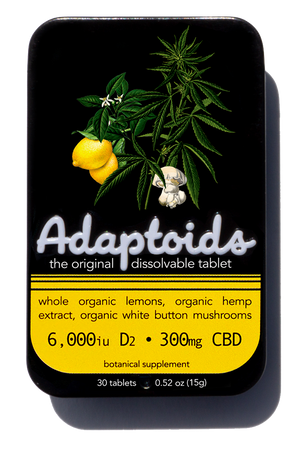 Lemon - CBD + Vitamin D.
300mg CBD + 6000iu Vitamin D2, derived from organic white button mushrooms....
View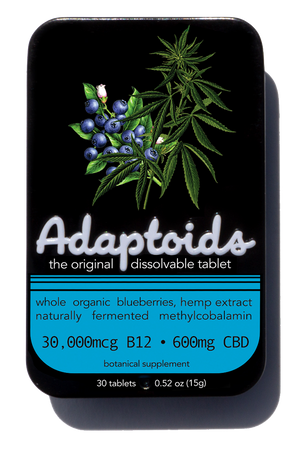 Blueberry - CBD + Vitamin B12.
600mg CBD + 30,000mcg Vitamin B12, derived from probiotic fermentation. Each Adaptoids daily...
View
vitamin has a whole (fruit) new meaning.
Adaptoids harness the vitamin powers of organic freeze-dried whole fruits and hemp to naturally reduce daily stress and ease pains, while building effective and lasting immunity.
dissolvable

plant-based

vegan friendly

non-gmo

thc-free

sugar-free
consistency
matters.
Adaptoids CBD vitamins will help you get better sleep and take the edge off bodily stress by taking them each and every day. Trust the process, and you'll see what we mean.
our purity
promise.
Adaptoids tablets are precision made in small batches using organic hemp grown here in the USA. We work especially hard on sourcing because trust is the only thing as important as your health.
yep, real fruit
vitamins.
Adaptoids tap into the basic life building elements of real organic fruit, because there's really no better lab in the world than Nature herself.
not so corporate.
Ba Organics is a certified small business, proud member of the Industrial Hemp Association of Washington, and the creators of Adaptoids™ natural wellness products.
say hello

antioxidants • flavonoids • trace minerals
all in one.
explore wellness.
Nourish your insta feed with @adaptoids health tips and flash deals!