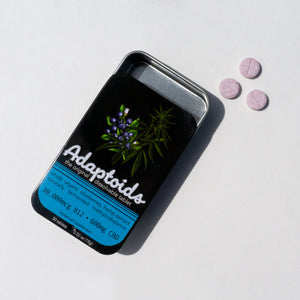 CBD + Vitamin B12 subscription.
$46.75
Regular price
$55.00
15% off and delivered once every month.
This revitalizing formula is a daily must for vegans and vegetarians whose diet lacks this essential vitamin combination.
 20mg CBD • 1000mcg vitamin b12 per tablet.
---
DAILY CBD + VITAMIN B12 SUPPORTS THE DEVELOPMENT OF YOUR BRAIN, NERVE CELLS, PROTECTIVE MYELIN SHEATHS ON NERVE ENDINGS, AND YOUR BLOOD CELLS. VITAMIN B12 IS ALSO KNOWN TO ENHANCE MEMORY, CONCENTRATION, AND BOOST YOUR ENERGY LEVELS.
When Vitamin B12 is ingested as probiotic-fermented methylcobalamin, it is already in the biologically active form which optimizes bioavailability and tissue retention. Unlike synthetic vitamins, Adaptoids B12 is created using a unique culture to develop it's superior bioenergetic properties. By avoiding animal sources and synthetic chemicals, Adaptoids B12 is true to nature and the ideal supplement for vegetarians and vegans alike.
30 Tablets Per Tin - Amounts Per Tablet:
Vitamin B12 - 1000mcg
Cannabidiol (CBD)- 20mg
Made entirely with organic whole-fruits and plant-based extracts.
CBD + Vitamin B12 subscription.
Customer Reviews