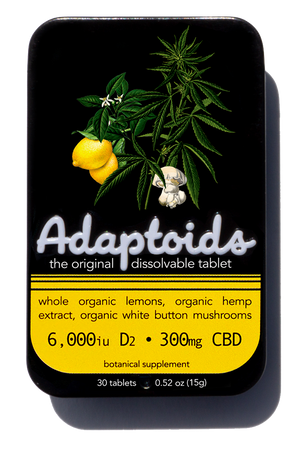 Lemon - CBD + Vitamin D.
300mg CBD + 6000iu Vitamin D2, derived from organic white button mushrooms.
Each Adaptoids daily CBD + Vitamin D tablet is complete with potent agaricus mushroom-derived Vitamin D, minerals, and proteins. Created with pharmaceutically advanced nanotec™ hemp-extract for high bioavailability and rapid onset.
---
daily vitamin D is one of the most important essential nutrients one can have at any given time. vitamin D is known to support cellular regeneration and activating t-cell immune response to viral infections. it's also known to promote stronger bones and teeth via boosted calcium absorption, healthy inflammation response, and increased immunity or resistance to disease.
Vitamin

D

is

one of the key controllers of systemic inflammation,

oxidative stress

and mitochondrial respiratory function, and thus, the aging process in humans.





Vitamin D is a fat-soluble vitamin that exists naturally in very few foods. It's most important function is promoting calcium and phosphate absorption in the gut to stimulate bone growth. But many cells throughout the body have Vitamin D receptors making it partly responsible for regulating cell growth, apoptosis (cell death), neuromuscular and immune function, and did we mention it reduces inflammation?
30 Tablets Per Tin - Amounts Per Tablet:
Vitamin D2 - 200iu (5mcg)
Cannabidiol (CBD)- 10mg
trace minerals: calcium, copper, iron, magnesium, phosphorus, potassium, zinc, manganese
made entirely from organic whole-fruits and plant-based extracts.
Lemon - CBD + Vitamin D.
Customer Reviews
Customer Reviews
05/23/2020
Rachel A.

United States
Great part of my morning routine!
I love the combination of ingredients, I know the quality is excellent and the format makes it easy to take every morning with my other supplements (plus the tin is so cute)!